New garden of inspiration in the Trieux valley
Heated by the Gulf Stream, Brittany is able to call itself the garden region of France. It boasts dozens of gardens open to the general public that feature not only native but also subtropical and exotic plants. Visitors have plenty to choose from, there are: symmetrical gardens, Japanese gardens, organic gardens, historical gardens, etc…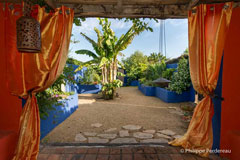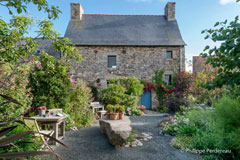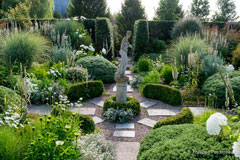 The latest addition to the pack is Les Jardins de Kerfouler located on the outskirts of Plouëc-du-Trieux, a small village near picturesque Pontrieux on the Armor coast in northern Brittany.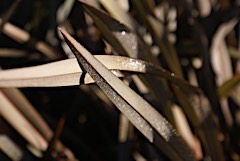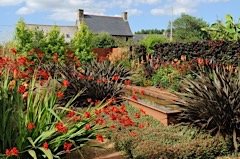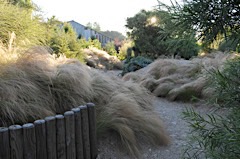 Les Jardins de Kerfouler is a garden of inspiration boasting a range of garden styles, e.g.: modern, artistic, classic, natural, romantic, exuberant, modest, playful, etc… As you venture through the fourteen gardens at Kerfouler you come across special trees, forgotten vegetables, exotic plants, beautiful flowers, grasses dancing in the wind and surprises in green.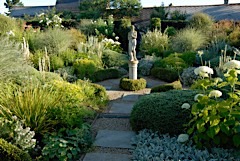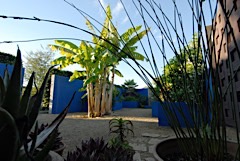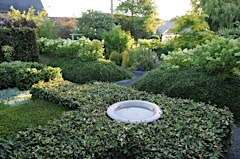 Compact and Creative
At 10,000 m2 our garden is small compared to some of France's enormous castle gardens measuring up to areas as large as 30 full-size football pitches, but its ingenious set up and variety in look and feel give it many interesting things to see and experience.
The fields located adjacent to the garden make for a spacious view.
Going round all the gardens in the space of two hours won't wear you out, but you are very welcome to take a breather after your tour, be it in the garden or on the patio.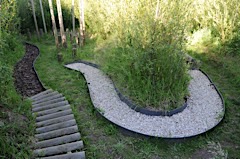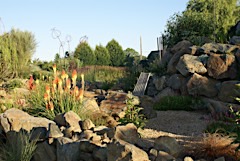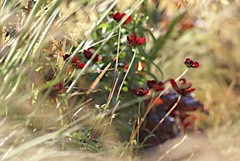 Themed gardens
The exceptional species of plants and the radiant and abundant combinations of Lime & Blue, the romantic border patches at Helen's Court and the floral beauty in the Fire & Flame evening garden and a Natural Tipi are an inspiration to garden enthusiasts. Art lovers will enjoy the Green Gallery's exposition. And there is plenty of wild life to enjoy watching the birds take a dip in the Swallow Pond, or the salamanders roaming around the Pure Nature pools.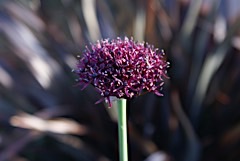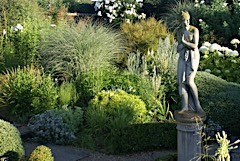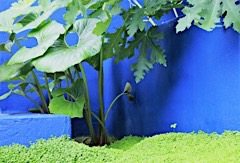 Holidaymakers are given a taste of North Africa at the Moroccan Patio with its exotic feel, or Thailand as they meet the Buddha in the Zen Garden where smells, colours and sounds are all-important.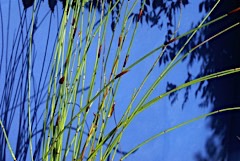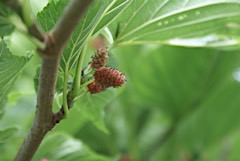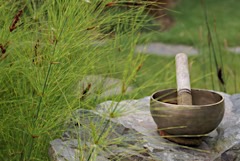 A bit more 'down-to-earth' is our vegetable patch Aunt Agatha's Pride; tasty & healthy! Fruit & vegetables and herbs lined with an abundance of colour. The Cour will lead you right back to the Salon de Thé - located in a carefully restored 200-year-old farmhouse for some hot or cold drinks and pastries.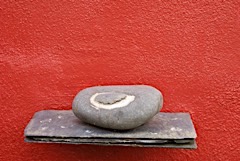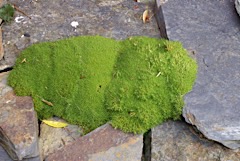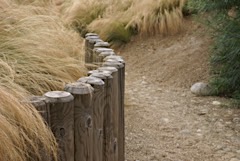 In short, the garden caters to many tastes and all ages. There are plenty of park benches available to sit and rest for a while.